Chances are, "Yes!"
Studies show that most companies do not do a good enough job following up with prospects and giving them the information they want and need to make a purchase. Most companies quit too soon.
More importantly, many companies do a very poor job maximizing the 'Lifetime Value' of customers.
Getting a person to buy your product or service the first time is the hardest and most expensive part.
Why stop there?
Once you've established a relationship with a customer, Honk Marketing can help you get repeat sales, plus strong word-of-mouth referrals.
As 'Back End' Specialists we have helped many companies build and optimize their sales and marketing funnels.
Our proven systems work for big companies and small companies. Private companies and public companies. Our strategies are even effective for non-profit organizations. If you are in business and have customers, chances are, we can help you!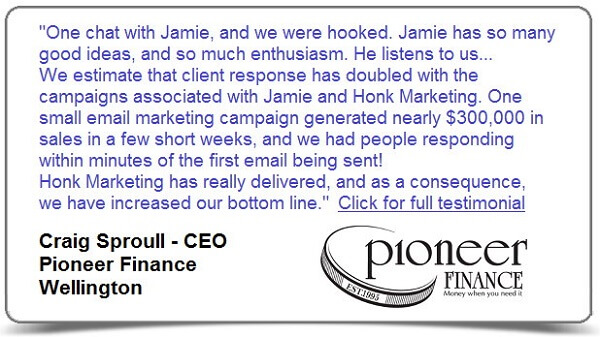 Ask the 'Back End' guy Jamie Houston about our SalesCPR past customer reactivation campaign that can help you identify hot prospects that want to buy from you within the next 3 days! Call him today on 0220 475 253 or contact him here.